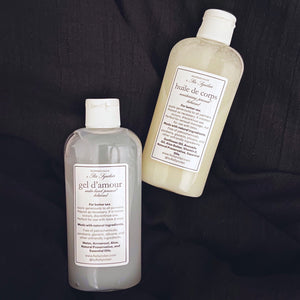 Personal Lubricant
Regular price
$15.00
$0.00
Unit price
per
The wetter, the better!
Personal lubricants provide a #supremelyslick environment for less friction, smoother skin, and greater pleasure — no matter your gender, age, or stage in life. Slippery, natural, and thoughtfully-made for sensitive parts this lubricant comes in two very necessary formulas. 
Huile de Corps is oil-based and super moisturizing, perfect for sensual massage and skin to skin contact; not for use with latex. (Oils can break down latex material, reducing their efficacy.) Sunflower oil, avocado oil, aloe butter, vitamin E, natural preservative, and essential oils. 
Gel d'Amour is water-based; ideal for use with latex and big kids who like their toys!  Aloe water, arrowroot, natural preservative, and essential oils. 
Exclusive essential oil blend creates a pleasurable warming and cooling sensation.
Made with natural ingredients. 
Free of petrochemicals, parabens, glycerin, silicone, cornstarch, coconut oil, and other unloving ingredients.
Totally cruelty free (unless you're into that sort of thing... hey, I don't judge.) and tested only on happily willing humans.
approx. 4 fluid ounces
For better sex, apply generously (don't hold back!) to all partners. Repeat as necessary. If irritation occurs, discontinue use. 
Free your mind and the sex will follow. It is important, for both men and women to understand that using or needing lubricant is no indication of arousal or attraction to your partner. 
---
Share this Product
---